Solving crimes, Catching bounties or even investing and or destroy paranormal threats. They do alot and always disappear after the job is done.
Who we are
Edit
Lurking out from the shadows, The Vagabonds are a crew of nomadic, crime solving, merc bandits who have an absurd love for terrorizing the many states of america. They'd go farther, but because of their fearless leader's love for messing with machinery he really shouldn't be touching, that's about as far as they've been able to get. But stay tuned! A few miles of rope, and this may get fixed.


From terrorizing "The Man" to assembling like minded individuals into coherent masses for posing and picture taking, they do it all. Being conventionally recognized doesn't really suit their style at times, but being the good hearted individuals they are, they'll easily be prepared to give creative instruction on any manner of topics. Remember, when you throw aristocrats, pirates, a cook, and a few outlaws at each other, you can't help but come up with a bronze and brass encyclopedia whose pages are always changing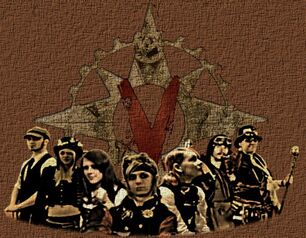 Statement from the Vagabonds
Edit
We Vagabonds gather aboard the mightiest ghost ship, The Tempest, and do away with mysteries of old, rampant lunatics, and possibly some of your valuables, entirely as we see fit. Sincerest apologies if that offends the reader. I'm sure we will be visiting your towneship soon, and if either your zombie infestation or string of murders disappear...well, I believe the colloquial term is "our collective bad." Fare thee well!
Vex Drexel
Eva Rosalie
Zalikir
Palis Raid
Mckay
Related Links
Edit