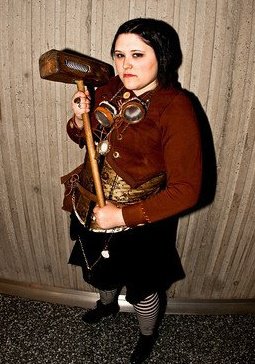 .
| | |
| --- | --- |
| Nicknames: Eddie | Alias: n/a |
| Age [at present]: 20 | Birthday: 5/23 |
| Western Zodiac: Gemini | Chinese Zodiac: Horse |
| Element: Air | Blood Type: n/a |
| Birthplace: Dublin, Ireland | Accent [if applicable]: |
| Nationality: Irish/French | Orientation: Bi |
| Favourite Colour: Green | Personality Song: n/n |
Physical Appearance
Edit
| | |
| --- | --- |
| Hair Colour: Brown or black | Hair Length: changes, usually short with fringe. |
| Eye Colour: Green | Height: 165cm |
| Scars: Small ones from cuts and burns | Tattoos: two harpies pulling on corset strings on her back. |
| Piercings: Side Lip and 5 on each ear | Build: Chunky |
Family and Relationships
Edit
Family: Tynan Van Zandt

Romantic Relationship: n/a

Friends: Chronos Society
Job and Weapons
Edit
Job [if applicable]: Psychic, Crews seamstress.

Gun preference: Deringer

Other Weapon Preference: Medium size hammer, brothers big hammer.
Backstory
Edit
Edana Van Zandt, Younger sister of Tynan Van Zandt. At age 5 she was noticed by a sevant named Emma looking at people funny. When Emma asked her what she was looking at, she responded "The pretty colors around everyone." emma knew right away she had extraordinary psychic abilities and began teaching her everything from tarot cards, to summoning spirits. When she was 12 her parents found Emma teaching her these things and had her hung for witchcraft. Edana regrets not helping Emma, but Emma still contacts her from the dead to continue her learning, and aiding in potential battle. At age 13, her parents were out on a walk under the fullmoon, Edana knew something bad was going to happen, but they still left, naive to her warnings. She told tynan of her abilities and had him come with her to find them, before something happened. Edana was able to locate their spiritual presence in the forest behind their estate. But before they got to them, a werewolf did. Edana and Tynan were too late, their parents were a mangled bloody mess in front of them. Tynan, full of fury, fought the beast off with his hammer. He killed the beast with a pistol his father always carried with him. After burying their parents, Edana and Tynan fled to london. Tynan was dead set on becoming a werewolf hunter. Edana used her psychic abilities to locate the werewolves.
Related Articles
Edit
Related Links
Edit
Outside the wiki links go here.
Ad blocker interference detected!
Wikia is a free-to-use site that makes money from advertising. We have a modified experience for viewers using ad blockers

Wikia is not accessible if you've made further modifications. Remove the custom ad blocker rule(s) and the page will load as expected.